Air-sealing strategies: As Easy as ABC
Proper air sealing prevents air leakage throughout your entire home
This video explains the importance of air sealing in relation to insulation when it comes to energy efficiency.
With the visual inspection and blower door test complete, you should have a pretty good idea of how much impact leaks are having on your energy use and comfort. Now what? You're probably wondering: "With so many leaks to plug, where do I start?"
Don't worry, we've got you covered. Dr. Energy Saver's air-sealing strategy provides a simple, common-sense approach to air-sealing your home.
It's important to air-seal the attic first (A) because this is where the most significant leakage occurs. Basement (B) and crawl space areas are the second priority. Air-sealing these spaces eliminates a major source of cold air infiltration. With A and B zones taken care of, what remains is conditioned space (C), the main living area of your house.
After the completion of this entire process, your home will remain comfortable and energy efficient with no air leakage or wasted conditioned air. If you live in Des Moines, Ames, Ankeny and would like to schedule a free estimate on air sealing your home in Iowa, contact us today.
Fiberglass and cellulose insulation will not stop energy-wasting air leaks
Spray foam insulation is the only type of insulation that can also perform effectively as an air sealer. If you are planning home energy saving upgrades that include other types of insulation-like fiberglass or cellulose, for example-make sure that your home has air-sealing work completed first.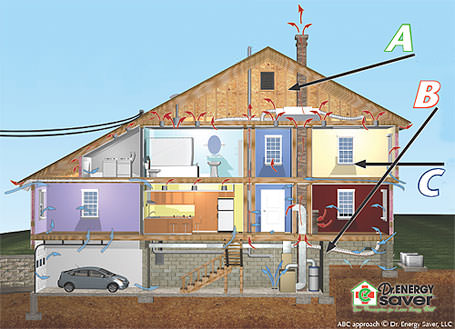 Contact us today for a free estimate in Iowa
To schedule a free estimate in Marshalltown, Newton, Indianola, , , , or any surrounding area, call us at 1-888-370-6924. Dr. Energy Saver specializes in a variety of air sealing strategies that will keep your home airtight and energy efficient.
Looking for a price? Get a no cost, no obligation free estimate.