Crawl Space Insulation in Des Moines
Crawl Space Encapsulation in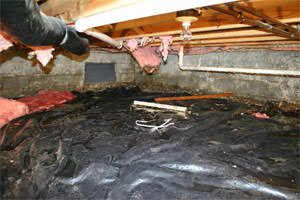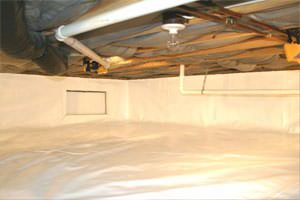 In this video, Dr. Energy Saver solves home comfort problems caused by an unsealed, uninsulated crawl space. Watch to see how to make your crawl space more energy efficient!
The Problem:
Many crawl spaces still have dirt floors, foundation vents and uninsulated walls. Not surprisingly, these crude, unfinished spaces developed a reputation as dark, damp, moldy areas.
In an unfinished crawl space, moisture from the soil often causes mold to grow on wood and paper-faced fiberglass insulation, degrading both materials. Steel surfaces rust, damaging ductwork, water heaters and any other components beneath your living space. Insects and other pests settle in. Vents allow exterior air to move into the crawl space and enter the living space through floor openings and cracks made for wiring, plumbing and ducts.
The Solution:
Crawl space encapsulation solves all of the problems associated with dirt-floored, unfinished crawl spaces. Foundation walls are air-sealed and insulated to improve energy efficiency. A durable, moisture-proof membrane is installed on top of the dirt floor and extends up the walls to create a continuous moisture barrier. Drainage tiles and a sump pump can be installed if necessary, to remove water from inside the foundation.
Foundation vents are sealed to keep pests and outside air from entering. Crawl space access is still possible through a tightly weatherstripped door.
Start Saving Energy and Money With A Crawl Space and Basement Insulation Upgrade.
Call 1-888-370-6924 or contact us online to schedule Free Estimate for basement or crawl space insulation in Ankeny, Ames, Des Moines, and nearby including Newton, Marshalltown, , Indianola, , ,, and more.
We also offer a comprehensive home energy audit, which we use to fully diagnose the causes of your home's energy issues.
Looking for a price? Get a no cost, no obligation free estimate.